Why ClickPay?
Our primary function is to be your business partner.
We combine our extensive experience in real estate technology with an in-depth understanding of your specific goals to create efficient solutions that help your business grow.
Real Estate Expertise
Among the myriad of online billing and payment providers in the marketplace, only ClickPay features a platform that accepts ALL payment types and delivers unique billing solutions that integrate with your back office.
Personalized Service
In an age of automation, we view the delivery of personalized service as the most powerful advantage any business can have. We provide a suite of white-glove services to both you and your residents that set your business apart.
Superior Exception Management
We believe that superior technology produces superior results.  Our sophisticated platform integrates multiple cutting-edge technologies to accurately review and manage exceptions, enable fast and secure data transmission, and ensure precise, seamless reporting to virtually any software you use.
If You Look Good, We Look Good
We are a true client advocate, working closely with your team to understand their specific needs, creating custom solutions that save time and money, while delivering a great resident experience. Combining our All-In-One Platform with exceptional service will ensure that ClickPay is viewed as a highly valued business partner.
Our Capabilities
Our capabilities were developed with a singular goal:
To give  property managers the advantages they need to excel.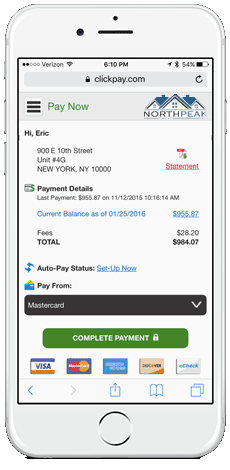 Online Payments
Our Capability
We create custom-branded online and mobile payment landing pages where your residents securely pay their  rent, HOA fees and other payments online via e-check from a bank account, debit or credit card.
Your Advantage
You receive on-time funds and improved cash flow, while offering your residents the convenience of AutoPay and paying on their mobile device.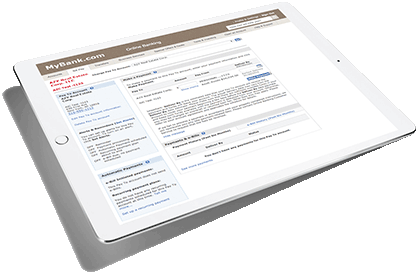 Online Bill Pay
Our Capability
We give your residents the option to pay via their Bank.com portal and still receive all the related services from ClickPay.
Your Advantage
You save time and money by eliminating  paper checks that arrive from the banks. When residents pay through their own bank, usually the bank mails a check to a PO Box, ClickPay converts those would-be BIG bank checks into clean electronic payments saving 7-10  days in processing.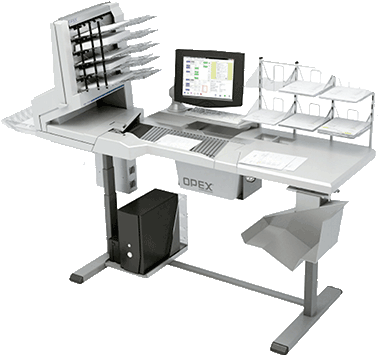 Lockbox Services
Our Capability
We manage PO Boxes where we receive paper-based payments on your behalf.  Whether you use a standard invoice or coupon book, our software will "read" your tenant information and convert it to electronic data that's  available in your All-In-One ClickPay portal.
Your Advantage
You eliminate the work associated with receiving, sorting, decisioning, blocking,  depositing, and tracking paper checks, while gaining the convenience of at-a-glance reports.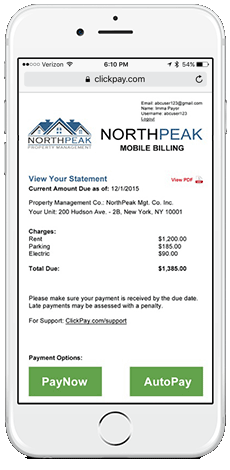 Billing Solutions
Our Capability
We offer a full range of billing solutions that bridge the gap between paper and electronic statements, and managing all monthly paper bill printing and mailing.
Your Advantage
You can send paper payments without lifting a finger, eliminate trips to the printer and post office, or door to door delivery, and save the time associated with printing and organizing resident bills. We can also suppress the print bills and do paperless billing.
Our Services
We provide a suite of personalized services that are proven to save time and fuel business efficiency, while enabling you to deliver attractive advantages to your tenants.
Make it Yours
We design, build and manage custom-branded mobile and desktop web pages for your residents to log in securely, pay their real estate charges, and view balances. We synchronize your accounting system with ClickPay's technology platform to enable truly integrated, real-time* data and payment reporting. Real-time API's available for many account systems.
Education is Key
Our dedicated training department provides pre-launch and post-implementation support to you and your staff, and we continue to offer training to new Accounts Receivables team members as you add them.  Our training sessions are designed to align with your internal procedures and to meet the specific needs of your business.
Let us Help
ClickPay's high-touch service team can manage it all.  We provide users with up-to-date billing statements and payment confirmations, and we supply residents with fast and clear answers to their questions – all while your staff remains focused on running and building your business.
Spread the Word
We take the lead in driving resident adoption by executing a range of targeted marketing strategies – from creating and distributing promotional materials, like blast emails, buck slips, fliers and posters, to offering incentives and hosting special events.
Integrations and API's
ClickPay believes that the best way to communicate between systems is through a well understood data connection or API.
Communication Drives Success
ClickPay works diligently during the implementation phase of our relationship with our clients.  We need to know the details of what data you have in your property management system, and how you use it, in order to properly service your account.
Experience is Key
Our Implementation Team is highly specialized in the Real Estate technology industry, from both the online billing and payment perspective, but also the paper based billing and check lockbox processing set up options and exception management.
Let's API Together
ClickPay integrates with dozens of accounting systems to synchronize account information and tenant balances with payments. API integrations with Yardi, MRI, AMSI, and many others allow for real-time data exchanges. See many of our Partners.
Good Data = Great Results.
The data that syncs with ClickPay has to be clean and accurate so that residents and tenants can choose the correct unit in our system in order to make payments, and participate in our One-Click activation process. When it comes time to post payments into your accounting system, the data accuracy is crucial for proper accounting.
"

Our inbound service call volume dropped by 65% when ClickPay partnered with us and inserted a layer of resident support that we could not provide alone.

"

—A. Mahon
Getting Started
Integrating ClickPay into your business is a fast, easy and turnkey process.

Meet with our team to discuss your business, its uniqueness and identify your needs.

Customize our products and services by selecting the precise combination to suit your needs.

Connect ClickPay and your accounting system through secure, real-time API's.

Control and monitor your receivables cycle with the assurance that the our team is always available.