Now More Than Ever, it's
Time to Rethink Association Management
The leading HOA payment platform is the modern solution for today's dynamic market challenges. ClickPay allows you to collect all payments remotely—including checks—to remove the burden from staff while offering a homeowner call center and custom-branded adoption marketing assets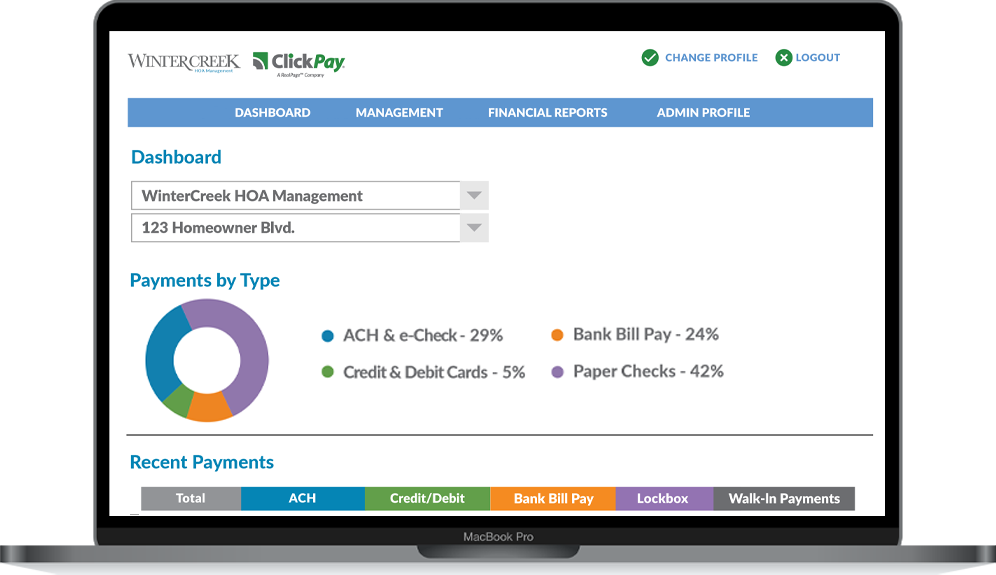 Your Trusted Payment Consultants
ClickPay is the only complete platform for all association billing and payments, founded on premier service.
Realize
Revenue Faster
Gain same-day ledger visibility with check image and reporting tools for business insights.
Improve
Staff Productivity
Tokenizes and encrypts Homeowner banking information. Reduces error-prone manual effort.
Drive
Self-Service
Route check collection off-site and encourage residents to adopt remote, electronic forms of payment.
Centralize
Payment Workflows
Consolidate all payments types in one centralized dashboard and replace dispersed, manual systems of collection by payment type.
Homeowner
Call Center
Homeowners call, chat, and email our bilingual English/Spanish call center to gain assistance setting up autopay or answering payment inquiries.
Electronic Payment Adoption Specialist
Leverage marketing specialists and custom-branded communications for change management to drive electronic payments.
Auto-Debit Program
Eliminate the insecure process of creating, maintaining and manually sending monthly NACHA files to the bank while gaining the highest level of payment security!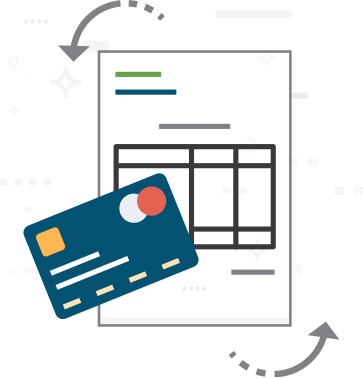 Security & Compliance
Upgrade the insecure method of saving bank account information on unencrypted files to a program with bank-grade security and encryption.
Eliminate Manual Tasks
Replace the monthly task of uploading NACHA files with an automated auto-debit program.
Simplicity
Migrate NACHA file management to ClickPay for automated debits and easily set up new users with our Invitation Wizard.
Learn More
Electronic Payments
Let homeowners make a payment anytime, anywhere, any way, & view all payments in one centralized location!
Custom-Branded Portal
Custom-branded online & mobile landing page with options for homeowners to securely pay via ACH, credit & debit cards. Homeowners can pay for any line item charge or full balance due.
Flexible to Individual Business Rules
Tailor the ClickPay platform to business requirements to ensure easy collections that enhance receivables workflows.
Secure & Compliant
PCI, SSAE, and Trustwave—ClickPay's maintains the highest level of security and compliance, complemented by advanced data protection and redundancies.
Learn More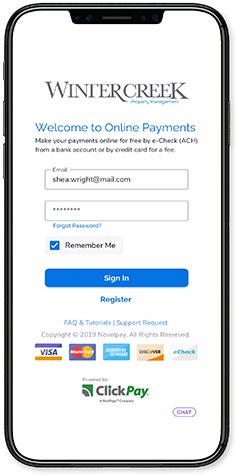 Bank Bill Pay
ClickPay's proprietary Bank Bill Pay solution solves for payments made on bank websites, removing the need for staff to process the hardest checks to associate with Homeowners.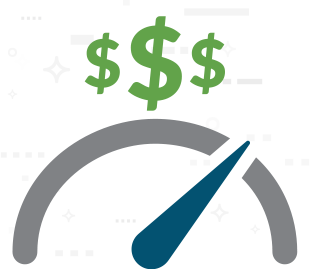 Accelerate Bank Checks By Up to a Week!
Payments submitted on bank websites drop to check and arrive at the management office a week later. ClickPay electronically sweeps those payments for next day funding.
Don't Change a Thing!
Homeowners continue to pay on bank websites, but ClickPay adds clients to its Biller Network to instead sweep ACH payments into the association's bank account overnight.
Faster Funding = Fewer Late Payments
Homeowners initiate bank website payments on the first of the month, but Associations receive the checks a week later, initiating late fees and unhappy homeowners. Bank Bill Pay solves for the delay!
Learn More
Lockbox
The solution to drive 100% paperless Association offices. ClickPay operates the only Real Estate specific lockbox and remote deposit solution dedicated to the needs of Associations.
Consolidated Lockboxes
Maintain a single Post Office Box for homeowner check payments, regardless of number of properties, banks, or property management systems, saving money on multiple Post Office boxes
Manage Exceptions Effortlessly
Since ClickPay has the billing file, all payments are researched, associated, and processed. If Associations instead desire to review the exceptions, a simple web form allows for accepting or rejecting.
Enable a Virtual Office
Mailing checks to a professional facility to manage payments helps Associations achieve a paperless payment office while still offering residents expanded payment options through the channels most convenient for them.
Learn More