All of Manhattan's Top 20 Property Management Firms Use ClickPay
ClickPay's biggest compliment isn't something that's been said.  Instead, it's that America's savviest and most demanding property managers actually use our platform.  According to The Real Deal, all of Manhattan's top 20 property management firms have chosen ClickPay as their rent payment platform.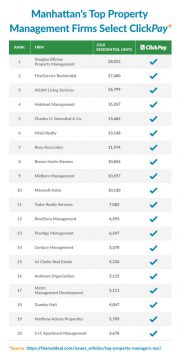 ClickPay's best-in-breed platform empowers property managers to easily bill residents and collect all forms of payments, including electronic and paper checks, enabling a holistic view of integrated receivables.  The platform is feature-rich, including a plethora of functionality for rent-controlled, rent-stabilized, and NYC-specific business requirements.
"ClickPay's roots are in New York City, so we equipped the platform for the complexities of the largest and most highly-regulated real estate market in the world," says Tom Kiernan, CEO & co-founder of ClickPay.  "Since our inception, we've expanded to process billions of dollars each month for customers all over North America; but it all started right here in NYC."
The Real Deal's listing of Manhattan's top 20 property management companies includes nationally-prominent firms such as Douglas Elliman Property Management, FirstService Residential and AKAM Living Services, along with more local firms such as Halstead, Midboro, Charles H. Greenthal, Rose Associates and others.  Their property types range from luxury to affordable, with most falling in middle market.
"It's a cliché that if you can make it here you can make it anywhere," says Kiernan, "but I do believe that in this case the fact that our software initially proved itself in this complex market has had a lot to do with our rapid growth. While we're flattered to have the top firms already on our platform, we're pushing hard to prove to the rest of Manhattan, and North America for that matter, that ClickPay is superior to any other rent payment platform available."
About ClickPay
The complete platform for real estate billing and payments.
As the industry-leading platform for automating real estate receivables, ClickPay accepts all payment methods, including paper checks, e-checks (ACH), cash, and credit & debit cards. ClickPay delivers integrated print and e-bill presentment and payment services to increase operational efficiencies and enable profitable growth. Shaping the future of real estate billing and payments with innovative products and services, ClickPay provides property management companies with customizable solutions to connect with their tenants, residents, and homeowners. To learn more, go to https://www.clickpay.com.