2020 Release One
March 3, 2020
ClickPay's first release of 2020 focuses on delivering features that clients requested to enhance the ClickPay user experience. The primary improvements highlighted in our first release include user onboarding experience improvements, SSO updates, MRI and Yardi API upgrades, Receipt Warehouse reporting, and ClickPay's new integration partner—Propertyware. 
User Onboarding Experience Improvements 
ClickPay interacts with over 35 different software packages, exchanging data to maximize the user experience. To support our software partners, ClickPay added new tools that enhance the user onboarding experience. These new options support both Flat Files and API exchanges to automate the process of onboarding new residents and the distribution of welcome emails. This automation extends the use of resident marketing beyond implementation, creating a relationship that continues throughout the ClickPay experience.
New Integration Partner – Propertyware
ClickPay is excited to announce our latest software integration partner—Propertyware. Our integration with Propertyware will be rolled out this year across Propertyware's Canadian client base.
ClickPay is looking to expand our growing list of software partners in the Canadian market. Please contact sales@clickpay.com with software and technology partner referrals.
Single Sign On (SSO) with RealPage, OneSite, and ActiveBuilding
ClickPay continues to add new integrations and enhanced search tools to support software partners. In the US and Canada, ActiveBuilding is now integrated with OneSite and ClickPay through Single Sign On, creating a streamlined user experience.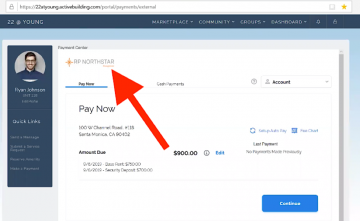 MRI and Yardi API Upgrades
ClickPay created a new feature that supports specific "Allowable Unit Types".  This functionality will assist clients in choosing or suppressing units in their settings to support Condominium, Co-Op, and Multifamily managers with complex ownership structures.
ClickPay also created a new client requested MRI API export setting that provides the ability to wait four seconds between AutoClose attempts. An MRI API feature was also added, activating a separate API call to create new applicant and prospect accounts.
Enhanced features that simplify posting and reporting for MRI CM are also available to support larger clients.
Receipt Warehouse Reporting
Upon client request, ClickPay added a custom report setting to review email addresses for existing payers, supporting the new Receipt Warehouse capability developed in response to the New York rent regulations.
About ClickPay
The complete platform for real estate billing and payments.
As the industry-leading platform for automating real estate receivables, ClickPay accepts all payment methods, including paper checks, e-checks (ACH), cash, and credit & debit cards. ClickPay delivers integrated print and e-bill presentment and payment services to increase operational efficiencies and enable profitable growth. Shaping the future of real estate billing and payments with innovative products and services, ClickPay provides property management companies with customizable solutions to connect with their tenants, residents, and homeowners. To learn more, go to www.clickpay.com.