2019 Release Five
October 14, 2019
ClickPay's fifth release of 2019 centers around client-requested software enhancements. Main improvements relate to AutoPay usability, user creation automation, payment reminders, Canadian invoicing options, and data management enhancements. 
Resident User Interface Enhancements 
You asked and we heard you! ClickPay enhanced the format of the Pay Now screen to help payers avoid submitting duplicate payments. This functionality is in addition to the existing pop-up that requires users to type in their initials to make an additional payment.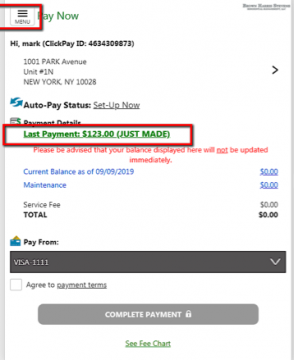 Canadian Market Updates
ClickPay is now in Canada accepting payments. In this release we have expanded our invoicing and partnership tools to support diverse reporting and billing in Canadian currency for all services.
ClickPay is also expanding our Canadian offering to serve the Leasing through Living Suite to Canadian clients!
New Commercial User Interface (UI)
ClickPay has released a new User Interface for our Commercial Property Management clients. This new UI has been customized for Commercial needs. Let your Client Success Rep know if you would like to demo this new interface today!
New Tools and Pages for On-Site Leasing Clients
ClickPay has released two new pages to better serve our clients' Leasing Payments through On-Site. The pages, "Leasing Payments" and "Batch Reconciliation" are located in your financial reports and support better functionality for the real-time reporting associated with the leasing lifecycle.
We want your feedback! Please let us know how you like (or don't like) these new pages, these pages are currently in beta and we are collecting feedback to improve the experience.
AutoPay Usability Improvements
ClickPay continues to strengthen AutoPay functionality with additional advanced search criteria features and a new optional column, "AutoPay Create Date."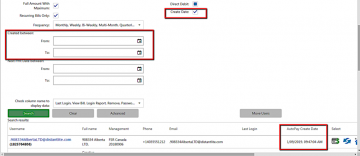 To be more user-friendly, ClickPay implemented visual improvements to AutoPay History by enhancing the formatting and messaging to more clearly indicate what changes have been made in addition to grid improvements for better readability.

Data Management Enhancements
ClickPay has improved clients' ability to control their Building Entity Bank Accounts. Accounts can be submitted by client personnel, and if preferred, they can now be reviewed and approved by our clients such as a Controller or CFO.
About ClickPay
The complete platform for real estate billing and payments.
As the industry-leading platform for automating real estate receivables, ClickPay accepts all payment methods, including paper checks, e-checks (ACH), cash, and credit & debit cards. ClickPay delivers integrated print and e-bill presentment and payment services to increase operational efficiencies and enable profitable growth. Shaping the future of real estate billing and payments with innovative products and services, ClickPay provides property management companies with customizable solutions to connect with their tenants, residents, and homeowners. To learn more, go to www.clickpay.com.