2018 Release Four
July 31, 2018
2018 Release Four has an array of enhancements for the www.clickpay.com user interface (UI), improved functionality for the MRI Software integration, and news about ClickPay's expansion into Canada.
UI Enhancements – Chat With Us!
As of July 23rd, residents and Property Managers now have access to a chat widget that can be accessed from multiple pages of ClickPay.com. As residents or administrators navigate ClickPay.com, they will see a "Chat with us" window at the bottom of the page. They can submit a query through the chat window and receive a response immediately. To initiate a chat session, simply click on the icon, select the user type, and enter a message. Once the chat session is complete, users will receive a transcript of the full conversation.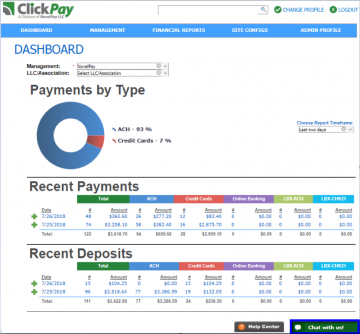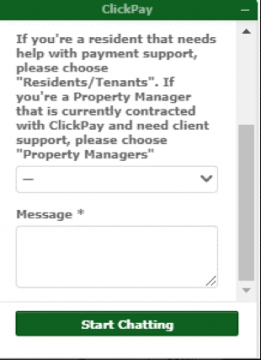 Resident Self Service – Void Payments
In 2018 Release Three, ClickPay announced that residents could independently void payments that were submitted in error. To simplify the process, in 2018 Release Four, ClickPay has added hyperlinks to the PayNow and Payment History pages for easy access to void or cancel a recent payment. This function can be executed through the website on either a desktop or mobile device.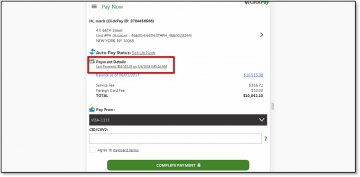 Custom Payment Terms
With this new feature, managers no longer run the risk of accepting rental payments from non-residents, accidentally granting them legal rights to a unit. With ClickPay's Custom Payment Terms, clients can add an array of legal verbiage to protect and preserve the original terms

and leaseholders stated in the executed lease.
MRI Residential Management (RM) API Integration Enhancements
ClickPay is now utilizing MRI Software's Residential Units API to import all units, including vacant units. This improved functionality is extremely beneficial for clients using Prospect Connect as ClickPay must have vacant units loaded into ClickPay for a payment to process successfully.
If you are an MRI Prospect Connect client, please contact your ClickPay Client Success Manager to activate the API functionality your communities.
Preferred Payment Method
To ensure a positive experience when residents are updating their payment types and methods, ClickPay will prompt a user to select the preferred payment method at the time of autopay update. This logic will help ensure payments are debited from the resident's desired account.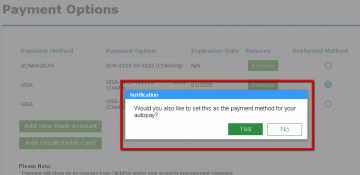 ClickPay Expands Service to Canada
It is with great excitement that we announce ClickPay is preparing to expand into Canada!
ClickPay is dedicated to developing more products, functionalities, and features while offering the highest level of service to our clients. This dedication to growth has been the driving force of ClickPay's success. ClickPay is now poised to expand into its first market outside of the U.S. by providing our same suite of services to Canada.
2018 Release Four introduces a handful of tools and customizations to support future Canadian clients, such as supporting CAD currency, alphanumeric zip codes, and data security measures. The development for this expansion will continue in the months to come. ClickPay is excited to service new and existing clients in this new market!
About ClickPay 
ClickPay is the complete platform for real estate billing and payments. As the industry-leading platform for automating real estate receivables, ClickPay accepts all payment methods, including paper checks, e-checks (ACH), cash, credit cards, and debit cards. ClickPay delivers integrated print and e-bill presentment and payment services to increase operational efficiencies and enable profitable growth. Shaping the future of real estate billing and payments with innovative products and services, ClickPay provides property management companies with customizable solutions to connect with their tenants, residents, and homeowners.
To learn more, go to https://www.clickpay.com.